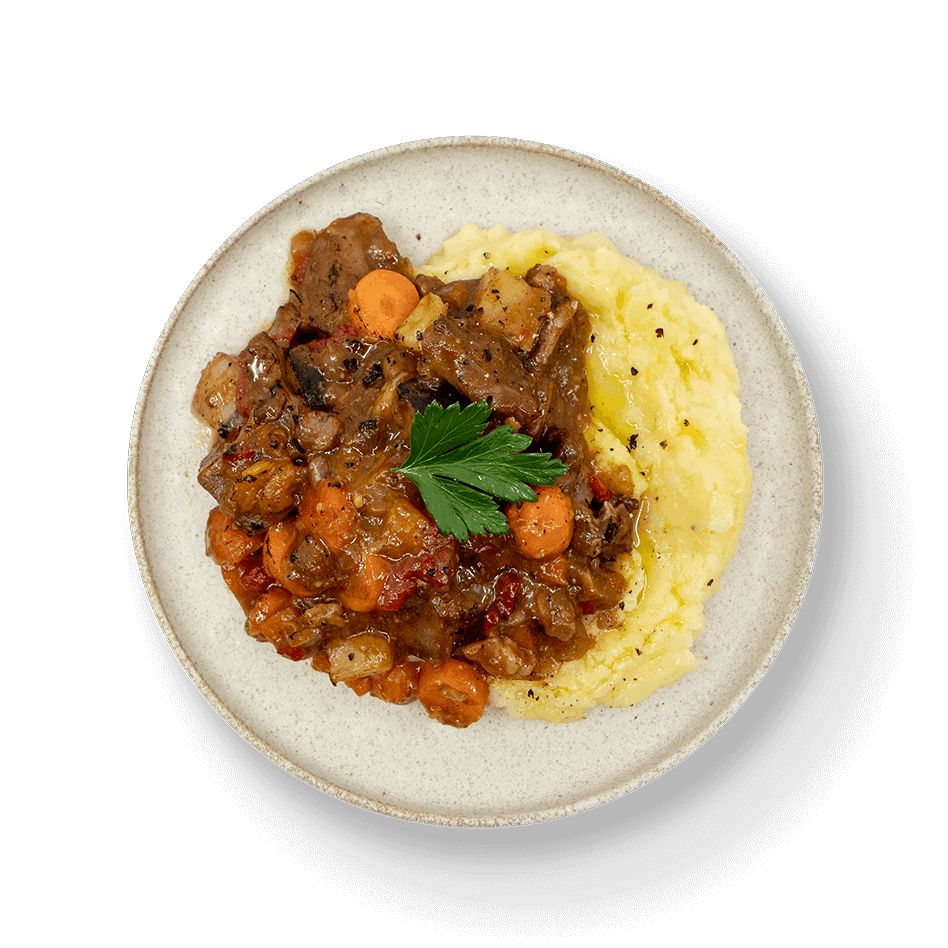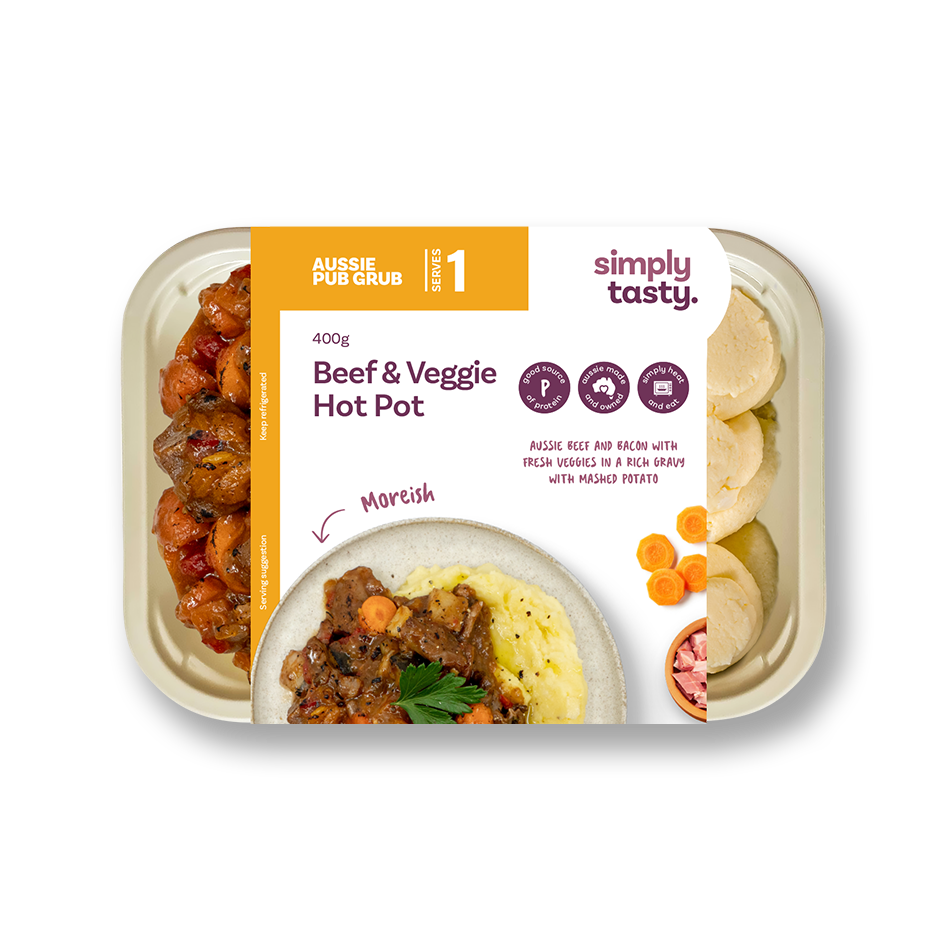 Ready Meals
Beef & Veggie Hot Pot
Aussie beef and bacon with fresh veggies in a rich gravy with mashed potato.
Nutritional information
Shelf life: 21 days
Serving size: 400g
Australian Ingredients: 89%

Per Serving
Per 100g
Energy
2250kJ
563kJ
Protein
22.6g
5.6g
Fat (total)
31.0g
7.8g
Fat (saturated)
11.6g
2.9g
Carbohydrate
38.2g
9.5g
Carbohydrate (sugar)
17.3g
4.3g
Sodium
1310mg
328mg
Ingredients
Beef and Vegetable Hot Pot
Beef (27%), water, carrot (7%), celery (7%), potato (7%), pumpkin (7%), zucchini (7%), onion (4%), gravy (wheat flour, maltodextrin, modified starch (1422), salt, sugar, yeast extract, vegetable fat, flavour enhancers (621, 635), flavours (contains wheat & soy), colour (150c), onion powder, food acid (330), spice), bacon (pork, water, salt, sugar, mineral salts (451, 450), antioxidant (316), sodium nitrite (250), natural wood smoke), capsicum (3%), tomato sauce (tomato, sugar, salt, vinegar, spices, preservative 202, 211), worcestershire sauce (water, vinegar, molasses, vegetables, salt, spices, colour (150d), flavours), olive oil, garlic, vegan beef flavour (dextrose, salt, maize starch, rice cereal, canola oil, flavour enhancer (635), spices, colour (150d), natural flavours, vegetable powders, anti caking agent (551), yeast extract, food acid (330), smoke oil), sugar, pepper.
Contains: wheat, gluten, soy.
May be present: crustacean, egg, fish, mollusc, milk, peanuts, almonds, cashews, pine nuts, walnuts, sesame, sulphites, lupins.
Beef and Veggie Hot Pot

INGREDIENTS: Mashed Potato (38%) [Potato (31%), Margarine (Emulsifiers (471, Soy Lecithin), Preservative (202), Food Acid (330), Vitamins (A and D), Natural Colour (Carotenes)), Skim Milk Powder, Salt, Pepper], Beef (16%), Water, Potato (7%), Carrot (7%), Celery (3%), Pumpkin (3%), Zucchini (3%), Onion (2.5%), Tomato Sauce (Food Acid (260)), Beef Gravy Powder (2%) (Thickeners (1442, 1422), Colour (150d), Vegetable Gum (466)), Bacon (1.5%) (Mineral Salts (451, 450), Antioxidant (316), Preservative (250)), Red Capsicum (1.5%), Worcestershire Sauce (Colour (150d)), Chicken Booster (Flavour Enhancer (635), Anticaking Agent (551), Food Acid (330)), Olive Oil, Sugar, Minced Garlic (Thickener (414), Food Acid (270), Mineral Salt (509)), Cracked Pepper, Bay Leaf.
Contains Milk, Soy.
May Contain Peanuts, Tree Nuts, Egg, Fish, Crustacea, Mollusc, Sesame, Sulphites, Wheat, Gluten, Lupins.