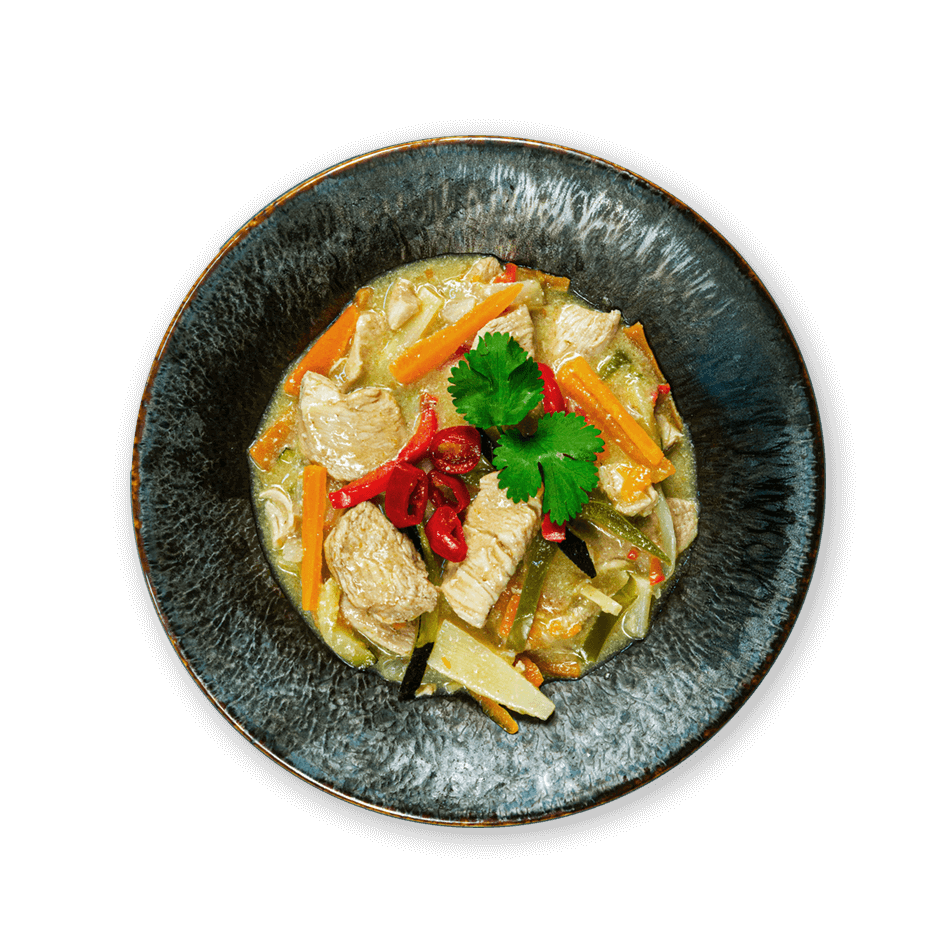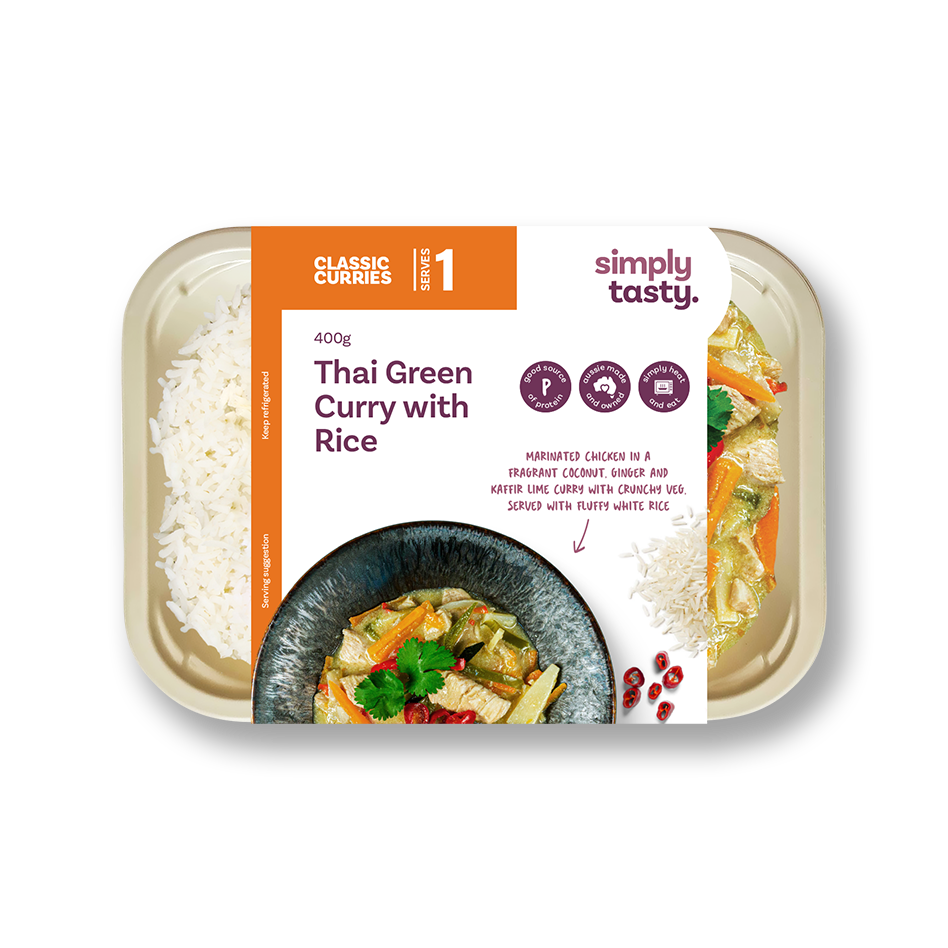 Ready Meals
Thai Green Curry with Rice
Marinated chicken in a fragrant coconut, ginger and kaffir lime curry with crunchy veg, served with fluffy white rice.
Nutritional information
Shelf Life: 21 days
Serving size: 400g
Australian Ingredients: 50%

Per Serving
Per 100g
Energy (incl. rice)
2170kJ
542kJ
Protein (incl. rice)
44.4g
11.1g
Fat (total) (incl. rice)
14.3g
3.6g
Fat (saturated) (incl. rice)
11.2g
2.8g
Carbohydrate (incl. rice)
52.0g
13.0g
Carbohydrate (sugar) (incl. rice)
11.1g
2.8g
Sodium (incl. rice)
688mg
172mg
Ingredients
3kg Thai Green Curry
Chicken (52%), coconut cream (coconut, water, vegetable gum (412), emulsifiers (435, 466)), carrot, bamboo shoots, onion, capsicum, zucchini, green curry paste (2%) (green chilli, lemongrass, garlic, salt, galangal, shrimp (crustacean), kaffir lime peel, coriander seed, pepper, cumin, turmeric), sugar, cornflour, soy sauce (hvp (soybean, maize), water, salt, colour (150d), sulphites), fish sauce (anchovy (fish), salt, sugar), lime powder (dextrose, food acid (330), maltodextrin, natural flavours, lime), olive oil, ginger.
Contains: crustacean, soy, sulphites, fish.
May be present: wheat, gluten, egg, mollusc, milk, peanuts, almonds, cashews, pine nuts, walnuts, sesame, lupins.
400g Thai Green Curry with Rice
INGREDIENTS: Marinated Chicken [Diced Chicken Fillet (38%), Corn Flour, White Sugar, Fish Sauce, Soy Sauce (Contains Sulphites, Colour (150d)), Lime Powder (Food Acid (330), Natural Flavour (Contains Soy), Lime Juice Solids), Crushed Garlic (Thickener (414), Food Acid (270), Mineral Salt (509)), Crushed Ginger (0.5%) (Food Acid (270))], Basmati Rice (35%), Coconut Cream (10%) (Stabilisers (415, 412, 407)), Sliced Brown Onions (3%), Carrot Batons (3%), Zucchini Batons (3%), Thai Green Curry Paste (Shrimp Paste (Crustacea), Kaffir Lime Peel), Sliced Red Capsicum (1%), Sliced Green Capsicum (1%), Bamboo Shoots, White Sugar, Olive Oil, Sliced Red Chilli.

Contains Fish, Crustacea, Soy, Sulphites.
May Contain Gluten, Mollusc, Egg, Milk, Peanuts, Tree Nuts, Sesame, Lupins.