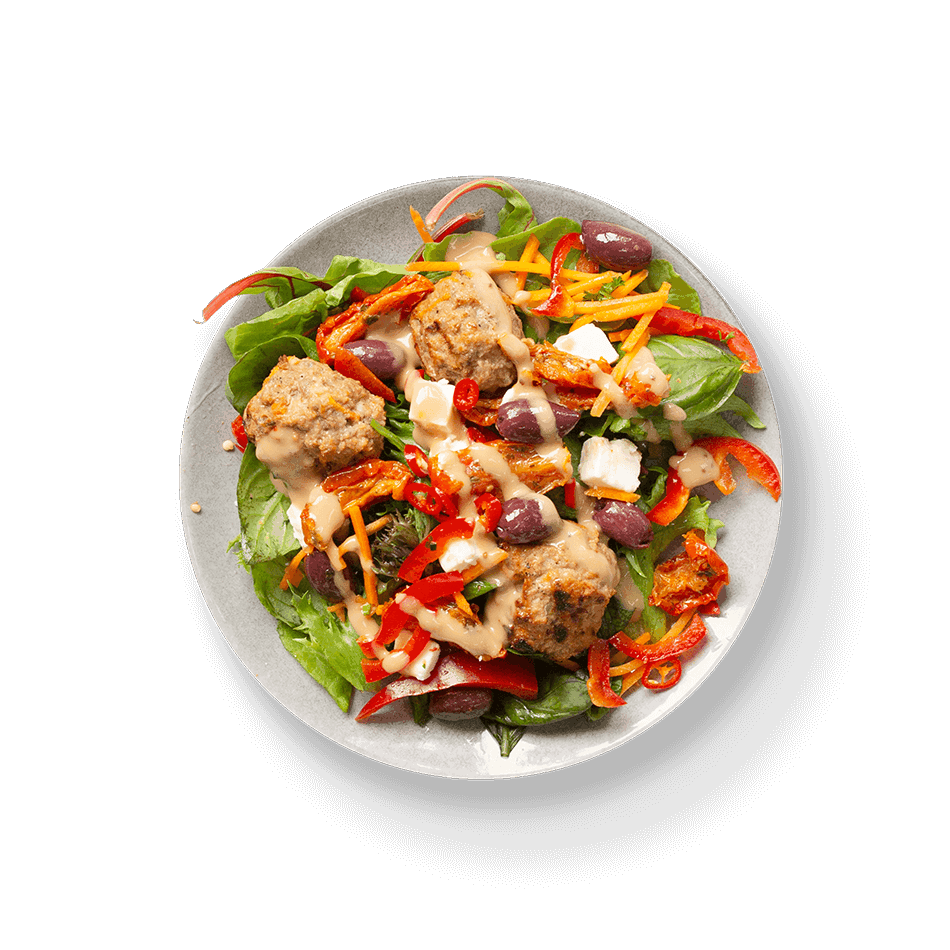 Leafy Salads, Salads
Mediterranean Meatball Leafy Salad
Oven baked beef meatballs with semi-dried tomatoes, olives, fetta, capsicum and leafy greens.
Nutritional information
Shelf Life (unopened): 12 days
Shelf Life (opened): 2 days
Serving Size: 100 g
Australian Ingredients: 63%
Storage: At or below 4°c

Per Serving
Per 100g
Energy
749 kJ
749 kJ
Protein
8.3 g
8.3 g
Fat, total
7.0 g
7.0 g
- Saturated
1.9 g
1.9 g
Carbohydrate
19.6 g
19.6 g
- Sugars
2.3 g
2.3 g
Sodium
1550 mg
1550 mg
Simply Ready to Eat
Source of Protein
Low in Sugar
Aussie Made and Owned
Ingredients
INGREDIENTS: Baked Meatballs (45%) [Beef, Textured Vegetable Protein (Soy), Onion, Flour (Wheat, Rice), Soy Protein, Salt, Vegetable Powders (Garlic, Onion), Thickener (1412), Mineral Salts (451, 500), Spice and Spice Extracts (Pepper, Chilli), Herbs, Natural Flavourings (Barley, Gluten), Smoke Flavour], Carrot, Feta Cheese [Milk, Brine (Salt, Mineral Salt (509), Acidity Regulator (260)), Cultures, Mineral Salt (509), Non-Animal Rennet], Red Capsicum, Semi Dried Tomatoes [Canola Oil, Semi Dried Tomatoes, Herbs, Garlic, Salt, contains Sulphites], Kalamata Olives [Kalamata Olives, Water, Salt, Vinegar], Parsley, Basil.
Contains Wheat, Gluten, Soy, Milk, Sulphites.
May Contain Peanuts, Tree Nuts, Egg, Fish, Mollusc, Crustacea, Sesame, Lupins.
May Contain Pips