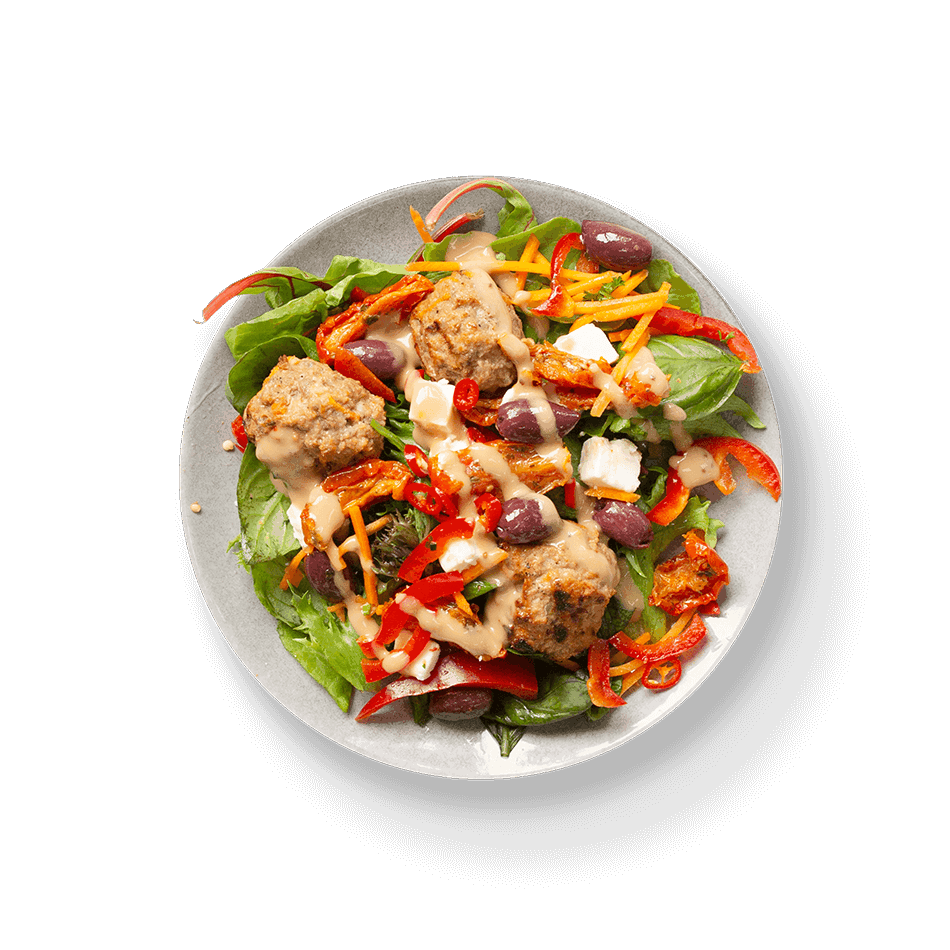 Leafy Salads, Salads
Mediterranean Meatball Salad
Charred beef meatballs with semi dried tomatoes, olives, fetta, capsicum and leafy greens
Nutritional information
Shelf life: 12 days
Serving size: 100g
Australian Ingredients: 80%

Per Serving
Per 100g
Energy
561
561
Protein
6.3
6.3
Fat (total)
9.7
9.7
Fat (saturated)
3.8
3.8
Carbohydrate
4.8
4.8
Carbohydrate (sugar)
3.1
3.1
Sodium
376
376
Ingredients
MEATBALLS (34% ) (MEAT, WATER, RICE FLOUR, SALT, MINERAL SALT (451), PRESERVATIVE (223), DEHYDRATED VEGETABLES, NATURAL COLOUR (160c), SPICES, SPICE EXTRACTS, HERB EXTRACTS, NATURAL FLAVOUR, BEEF, ONION, CARROT, CELERY, TOMATO SAUCE (TOMATOES, SUGAR, ACETIC ACID (260), SALT, ONION), CAPSICUM, WORCESTERSHIRE SAUCE (WATER, VINEGAR, MOLASSES, REHYDRATED VEGETABLES, SALT, SPICES, COLOUR (150d), FLAVOURS), PARSLEY, SUGAR, SALT, GARLIC, PEPPER), LEAFY GREENS (14%), CARROT, CAPSICUM, BEETROOT, CHEESE (MILK, SALT, FIRMING AGENT (509), CULTURES, RENNET), OLIVES (OLIVES, WATER, SALT, ACETIC ACID (260)), SEMIDRIED TOMATOES (CANOLA OIL, SEMI DRIED TOMATO, HERBS, GARLIC, SALT), HERBS.
MAY CONTAIN PIPS
CONTAINS MILK AND SULPHITES.
MAY CONTAIN GLUTEN, CRUSTACEA, EGG, FISH, PEANUTS, SOY, TREE NUTS, SESAME SEEDS AND LUPINS.