Market News
As the mornings and evenings are becoming cooler and the days shorter let's take a look at what's in season in March.
Make the most of eggplants and versatile onions. Chestnut season starts this month and you don't want to miss out on finger limes and mangosteens. Limes are top value, crunchy new season apples and juicy pears make a tasty change.
Autumn heralds the arrival of a new range of fresh and healthy fruit and veg, so its time to change up your cooking and switch to lines that are more in season, so you save money and have the best quality.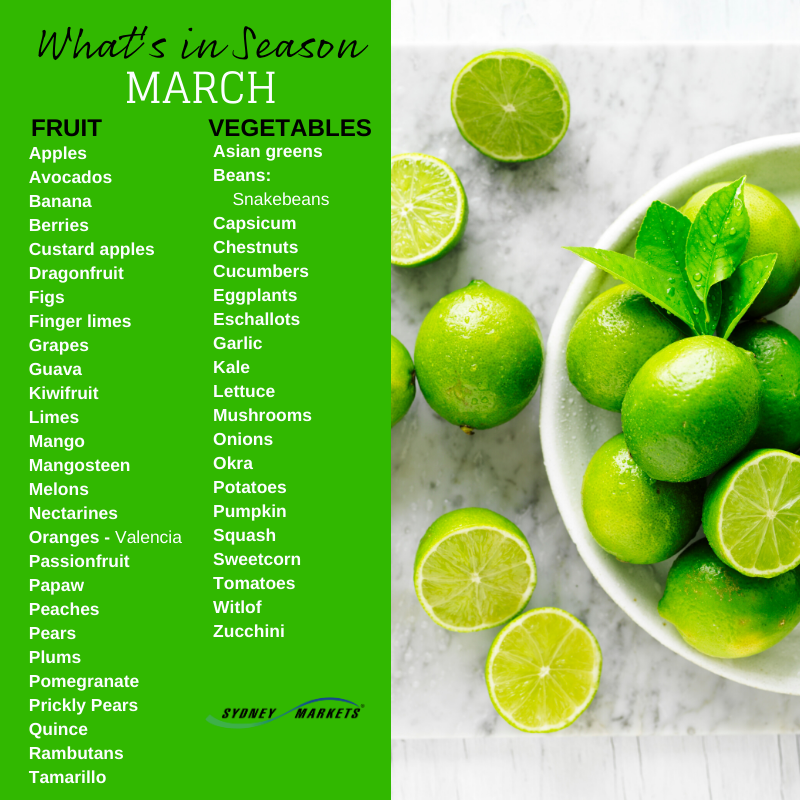 Produce update

REDLOVE apples from Lenswood, Victoria are now in season! Initially bred in Switzerland, Redlove apples are the first apple in Australia to have red skin and pinkish-red flesh. Similar in flavour to a Granny Smith these attractive apples are perfect for cooking, juicing, baking or slicing and serving on a cheeseboard.

Lemons- Give Autumn meals a citrus twist with zesty, juicy Australian lemons. Lemon supplies have increased, and prices have eased with a great special running this week for $1.90 per kg.

Baby Carrots, also known as Dutch carrots, are sweet and tender. They are sold in bunches with their leafy tops still attached or prepackaged with the tops removed. Baby carrots are delicious and require little preparation other than a quick wash and a quick cook,no need to peel them. Dutch Carrots also come in purple, white or yellow varieties.

Smooth and creamy with a nutty-flavour Shepard Avocado are a top buy this week for $1.45 each!! Avocados contain 'good' unsaturated fat and are the richest source of vitamin E of all fruits and vegetables. Did you know that the Shepard avocado's skin stays glossy when ripe and its flesh doesn't brown when cut, making them an ideal base for dips such as guacamole or salads and sandwiches.


Topless Pineapples- Removing the tops off pineapples was done because the new pineapple plants each season are grown from the old plants and splitting the crowns is the easiest and most reliable way of doing this. These next few months, or until the end of July are considered to be the best time of the year for pineapples. Try one today for only $1.45 each!

HOW TO PICK
Look for a pineapple that's a good weight for its size. It should also be free from soft spots, bruises and darkened 'eyes' – all of which may indicate it's damaged or past it's prime.

HOW TO STORE
Pineapples can be left at room temp for a couple of days until they achieve your preferred skin colour. If they are 'just right' already, they can be stored in the fridge for a few days until you're ready to eat. If cut, store in an airtight container for up to six days.




Mandarins- Our market buyers have been told new season Australian mandarins are only about 2 weeks away Early information coming through is fruit is looking great and plentiful As stone fruit is starting to come towards the end of the season mandarins will fill this gap and I'm sure the kids are looking for something different in the lunch box

Seasonal challenges/ price rises

Asparagus – Australian season has finished. Supplies are now from overseas. Prices are higher than previous.

Chillies – Long Reds are low supply and expensive.

Corn – Prices are starting to improve. Supplies are increasing. Though baby corn is short supply.

Ginger – Ginger is up in price (very high!) and low in supply.

Witlof – Quality is average. Red is high price!

Oranges – Navel from overseas are bright and orange but high price. Valencia's are cheaper and arguably fresher, but might be greener

Apples – Supply is low and prices have increased due to growing conditions. Likely be a tight season coming.

Honeydew- Only large Honeydews around and prices have risen.

Bananas- With the current cyclone hitting far north QLD our bananas suppliers have been told that there is damage to crops which will cause a shortage of fruit for the coming weeks. We are expecting prices to rise and will keep you updated on any more information as we find out.
Simply Tasty News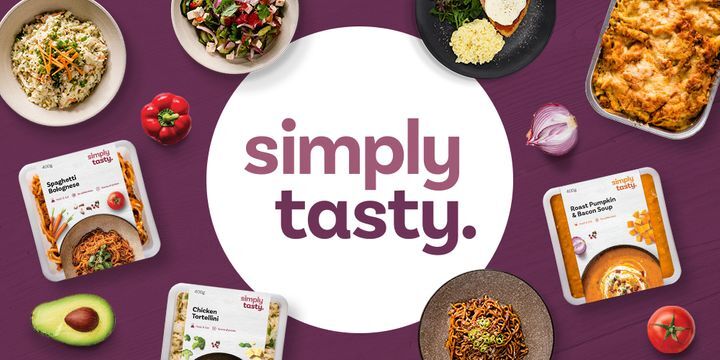 Too busy to rush around preparing the perfect salad for the last of the summer picnics? Our salad range has something to please even the fussiest eater.

The delicious range comes straight from our family to yours - the guests will be surprised you didn't make it yourself!

Head into your local IGA or Foodworks for your perfect quick-fix lunch, bbq or picnic meal and to view our full range.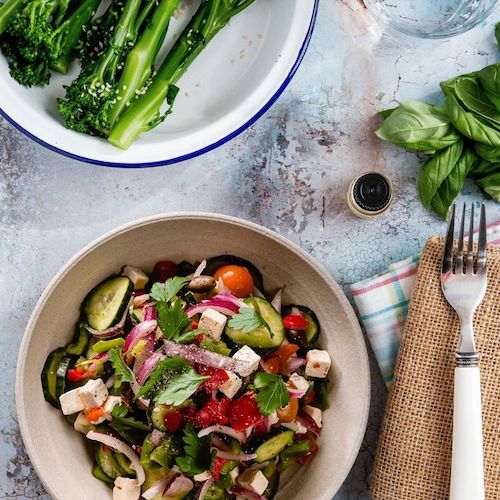 Weekly Specials
Available until Tuesday February 23rd, 2021.
| Produce | Price |
| --- | --- |
| Lemons | $1.90 per kg |
| Avocados | $1.45 each |
| Truss Tomatoes | $12.00 tray |
| Topless Pineapples | $1.45 each |
| 5kg Washed Potatoes | $3.00 per bag |
Online ordering now available. Whilst every care is taken in the preparation of this report, prices and supply can change due to market fluctuations and availability.